At 7:15 a.m. yesterday morning, the door clicked shut behind us as my daughter and I left the house. And I knew. Sigh...locked out. Keys on the table. Tim in Boston to pick up our older daughter from college. Every window locked, in an effort to combat all the roving criminals in Pittsford. Our spare key was missing and we hadn't replaced it.
At least I had the car keys and my wallet. I keep a Bible and some books on the porch--if I also had water out there, I could have survived. I drove Emma to school and then texted my husband my predicament...and then my phone battery died. Yup. Just call me Mrs. Prepared. Yes, I should have charged my phone the night before. Yes, I should have an extra key hidden outside. Better yet, had my house keys in my purse instead of...somewhere else. Where are they, anyway?
I sat on the porch for a while, the cat complaining endlessly at the window, as if to say, "Why are you getting to have all the fun on the porch? Let me out there!"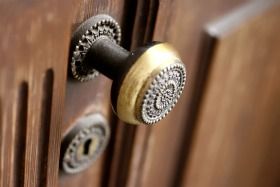 A situation like this can cause one to lose one's temper. But, instead I felt peace. I also felt hunger, so I went to Dunkin' Donuts and blew my diet on a croissant. And then I felt more peace. I waited two hours more for the person I thought had an extra key--the owner--but he never showed. At that point, like any red-blooded American with not much else to do, I went shopping. It was going to be 80 degrees in just a couple of hours, Tim was not due home until 3 p.m., and I had a fleece jacket and a pajama top on over my jeans. And did I mention I was in desperate need of a shower?
I braved the morning crowd at Marshalls, and not a customer nor clerk fainted from my lack of makeup or unwashed hair. One new polo top and undergarment later (I changed in our garage), I decided to go for a drive, passing through the lovely town of Honeoye Falls. A gazebo on the green was filled with musicians and speakers, and was surrounded by people on lawn chairs--and then I remembered it was National Day of Prayer. I had my Bible, a Diet Coke, and headed to Mendon Ponds Park. Parked by the the water, I prayed and enjoyed creation.
Seven hours after being locked out, I headed back home to decorate the porch with a sign and balloons (I managed to pop two of the four getting them into the car) to welcome home our Emerson College freshman, Maggie.
Emma and her friend Grey managed a forced entry t
en minutes before Tim arrived with the keys--she did not want to be late for crew practice. Grateful for our own resident Bonnie and Clyde, I scurried to the loo.
One of the definitions of "unlocked,
"
is "to free from r
estraints or restrictions." It was frustrating for me at first to know that the tools I needed for my workday (my computer and phone charger) were locked inside the house, but then I embraced the freedom. Being locked out unlocked freedom from my schedule and typical control of my day. I confess it has been a while since I have devoted most of a day to prayer and meditating on God's Word.
Today I remembered to unlock the door before zipping Emma to school. I admit, the thought crossed my mind to do a repeat and unlock my day instead.
Teach us to number our days aright, that we may gain a heart of wisdom
....
Have compassion on your servants. Satisfy us in the morning with your unfailing love, that we may sing for joy and be glad all our days.
Psalm 90:12-14
.